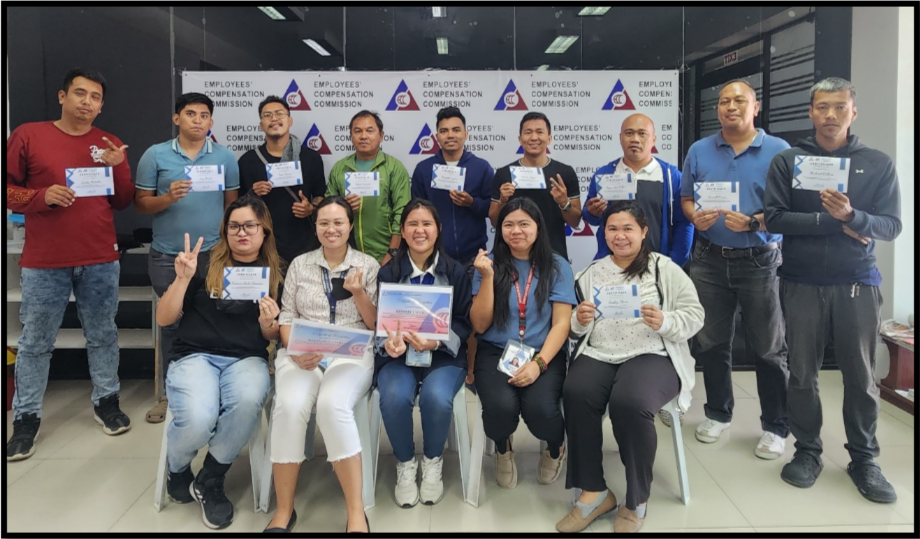 Davao City – The Employees' Compensation Commission Regional Extension Unit 11 (ECC-REU 11), in partnership with the Department of Trade and Industry 11 (DTI 11), conducted an Entrepreneurial Mind Setting and Simple Bookkeeping Seminar for Eleven (11) Persons with Work-related Disabilities (PWRDs) at the ECC Regional Office 11 on April 18, 2023.
The said Persons with Work-Related Disability (PWRDs) were qualified beneficiaries of the ECC's Katulong at Gabay sa Manggawang may Kapansanan (KaGabay) Program. The training was held in preparation for their initial ₱20,000.00 EC livelihood assistance purposely to start and ensure sustainability on their chosen business.
The seminar sought to create a paradigm shift from being mere employees to entrepreneurs as the participants are no longer capable of continuing their respective jobs after a work-related contingency. Hence, the need to acquire new skills that are suitable with their physical limitations to remain economically productive.
Mae Flor Caminade, a Trade Industry Development Specialist of Negosyo Center-DTI 11, shared with the PWRDs the characteristics of a successful entrepreneur, as well as the reasons for and rewards of entrepreneurship. Meanwhile, Kemberly Mahinay, a Senior Business Counselor I of the Negosyo Center—DTI 11, gave an overview of the Philippine MSME and discussed the importance of record keeping for their start-up businesses.
Some PWRDs shared their personal struggles in the management of their previous business. Others were also enlightened as to what type of business they would start and how to effectively carry out their business plans.
In CY 2022, a total of 23 PWRDs underwent entrepreneurial training and 18 EC beneficiaries were granted livelihood starter kits, with a total amount of ₱360,000 under the ECC's KaGabay Program in Region 11.
A. Bantan – REU 11