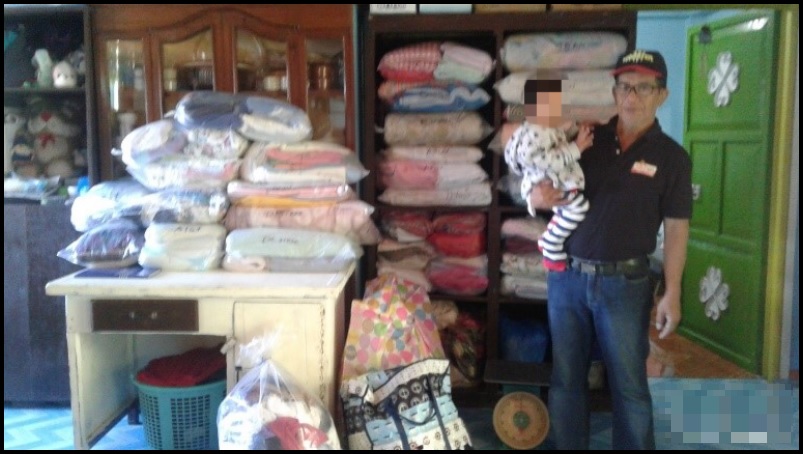 ECC STARTER AND COMPLEMENTARY KITS-LAUNDRY BUSINESS. Bodtan poses in front of the clean clothes ready for pick up or delivery to his clients.
Baltazar Bodtan was working as a miner for twenty four years in the mountainous region of Benguet.
Prior to his retirement, he was diagnosed with noise induced hearing loss that made it difficult for him to communicate with his co-workers and also his family.
Bodtan's exposure to mechanically generated noise with the mining equipment and tools he was using to mine ore, including loud blasts from the explosives in underground mining contributed to his condition.
Bodtan had no prior knowledge of the Employees' Compensation Program (ECP) until he was informed about it by a fellow miner. Picking up from the information given him, he filed for his EC claim.
For his bilateral hearing loss, Bodtan was granted EC permanent partial disability benefits.
Subsequently, ECC-CAR informed Bodtan about the Katulong at Gabay sa Manggagawang may Kapansanan (KaGabay) Program.
The ECC KaGabay Program appealed to him since he wanted to set up a small laundry shop to support his family. With the help of the ECC, he and his wife attended a one day seminar on managing a small business together with other ECC beneficiaries. After completing the seminar, ECC granted him a livelihood starter kit worth ₱20,000.00. With the said amount, Bodtan purchased, with ECC's assistance, a washing machine, dryer and some detergents. His first customers were his relatives and neighbors who are still patronizing his business up to now.
Bodtan admitted that he initially found it difficult to manage a business as he had no prior experience in running a laundry business. Together with his wife, they both learned from the ground up. Thankfully, his wife was able to manage the financial side of the business. To date, his business has been very successful, as word got around the community. Curious neighbors and customers asked him how he availed of such a grant from the ECC.
Bodtan explained that he was lucky that he was a member of the Social Security System (SSS) and he was covered by the ECC when he was employed, as the ECC gave him the opportunity to start his business.
For successfully maintaining his laundry business for more than one year, Bodtan was granted by ECC a complementary livelihood kit worth ₱10,000.00 on July 17, 2020.
"ECC will continue to strengthen its services as we provide more livelihood opportunities to persons with work-related disabilities (PWRDs) in our mission to assist them to have a decent life and return to the economic mainstream," ECC Executive Director Stella Zipagan-Banawis said. "We will strive in promoting PWRDs welfare and success as entrepreneur."
D. Lee – CAR