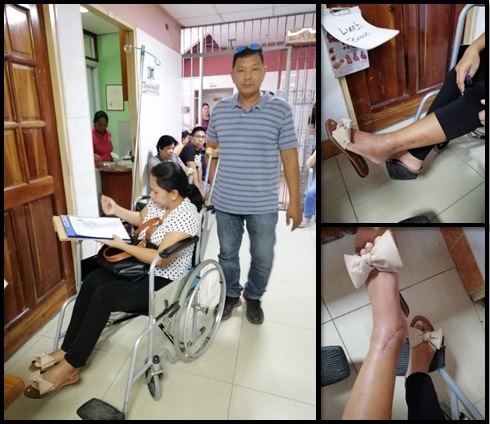 A government employee in Leyte was granted Employees' Compensation Program (ECP) benefits and services due to her work-connected injury caused by an earthquake in 2018.
In April 2018, while Richelle Anne Pacayra was busy working, a sudden jolt shook the whole building of the government agency where she was assigned to work. Instinctively, she ran towards the ground floor of the building to seek shelter in the designated evacuation site. However, while going down the staircase, she miscalculated her steps which resulted to her injuries.
Upon the advice of her HR officer, Pacayra proceeded to file her Employees' Compensation claim at the GSIS Tacloban Branch. She was granted EC benefits in the form of disability benefits, medical benefits and carer's allowance.
While undergoing physical therapy at the Divine Word Hospital, an ECC partner hospital in Eastern Visayas, she was informed by the head of the PT Department that she can avail other benefits under the ECP on top of those she earlier received from the GSIS.
As she was still recovering from her injuries, Pacayra sent her husband to inquire about the free rehabilitation services and livelihood assistance for workers who suffered from work-related illnesses and injuries at the ECC Regional Extension Unit Eight.
She received free rehabilitation services from the Divine Word Hospital under the EC Program plus transportation and meal allowance as part of the Katulong at Gabay sa Manggagawang may Kapansanan (KaGabay) Program which is implemented directly by the Employees' Compensation Commission.
In 2020, Pacayra received a livelihood starter kit amounting to twenty thousand pesos (₱20,000.00) to augment her needs as she recovers from her injuries work-related. If she would be able to maintain her micro enterprise, she is entitled to receive complementary livelihood kit amounting to ₱10,000.00.
ECC Executive Director Stella Zipagan-Banawis said, "The Employees' Compensation Commission has always been proactive in making sure that workers are given the support that they need as they recover from the contingencies they have suffered from. We have primarily created the KaGabay Program to provide the necessary services that will assist our persons with work-related disabilities (PWRDs) on their way back to recovery."
"Despite all the setbacks that COVID-19 has given us, the ECC has always been steadfast in its mandate of bringing back PWRDs to the economic mainstream. We have continued to deliver services and has even come up with several policies expediting the processing of EC Claim," Director Banawis added.
The ECC-KaGabay Program provides free physical restoration service, skills, training, livelihood or entrepreneurship training, transportation and meal allowance and livelihood entrepreneurship starter kit.
M. Basal – REU8