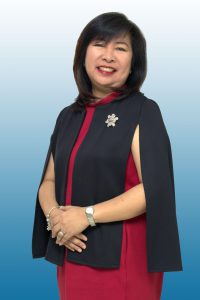 2020 has presented us with unprecedented challenges that tested our resilience. We saw the world turned upside down as nations face the turbulent times brought about by the CoViD-19 pandemic. As we bid goodbye to 2020, we remember the lessons and experiences of the year that was and start the New Year with a zealous disposition and hopeful spirits.
The Employees' Compensation Commission (ECC) family wishes you and your loved ones a blissful, healthy, and prosperous 2021!
We salute you for your unwavering support that allowed ECC to continue serving the Filipino people, especially our persons with work-related disabilities, and provide them adequate compensation and benefits amid the uncertainties and the adversities of the times.  We also pause momentarily and remember the lives we lost due to work-related contingencies and the struggles of the people particularly our fronline workers, who exemplify human strength and virtues in performing their sworn duties, may this serve as our inspiration in facing another year with zest for public service.
May the New Year bring forth fresh opportunities for us to renew our commitment to the people and remain steadfast in staying true to our mission and living out our mandates. As the threat of CoViD-19 continues to loom, we continue to pray that we get through this and hope for better days ahead for each one of us.
Let us always keep ourselves and the people around us safe and healthy by practicing physical distancing, wearing masks and shields, wash your hands often, and avoid the three Cs – crowded places, close-contact settings and confined & enclosed spaces. With these protocols, the nation can beat COVID-19. And soon, we'll get back to our offices, enjoy the hours after work and travel without restrictions.
To further support our workers, the ECC reinforces both public and private sectors' drive to maintaining safe and healthy workplaces especially during this time of pandemic thru continuous information dissemination on the Employees' Compensation Program and extending our cash assistance program which hit a record-breaking number of claims being granted to workers in a year.
The ECC assures our Filipino workers that whatever happens, in times of need due to work-related sickness, injury or death, we will be there providing you with meaningful benefits and services that you all deserve.
From the Employees' Compensation Commission, we once again extend our sincerest greetings of Happy New Year and wish you and your loved ones a safe and healthy 2021!
Mabuhay tayong lahat at mapagpalang Bagong Taon para sa ating lahat!