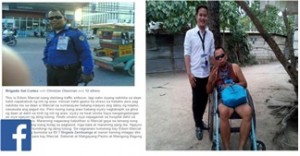 In Zamboanga City – The Employees' Compensation Commission – Regional Extension Unit 9, through its Quick Response Program, visited Edwin Marcial, a resident of Sinunuc, Zamboanga City.
Marcial, a traffic aide working for the local government of the City of Zamboanga, suffered a mild stroke last December 14, 2014 while serving his post in Sta. Maria, Zamboanga City.
Upon learning about the case of Marcial through social media, ECC immediately went to his residence and provided him assistance.
The Quick Response Team Program of the ECC provides immediate help to workers who suffer from work-connected contingencies or their families who have to deal with work accidents or sudden onset of occupational disease or death, in the form of psycho-social counseling and assistance in the filing of EC claim with the GSIS or the SSS.
Marcial underwent Psychosocial First Aid and was advised to file for his Employees Compensation (EC) Claim with the Government Service Insurance System.