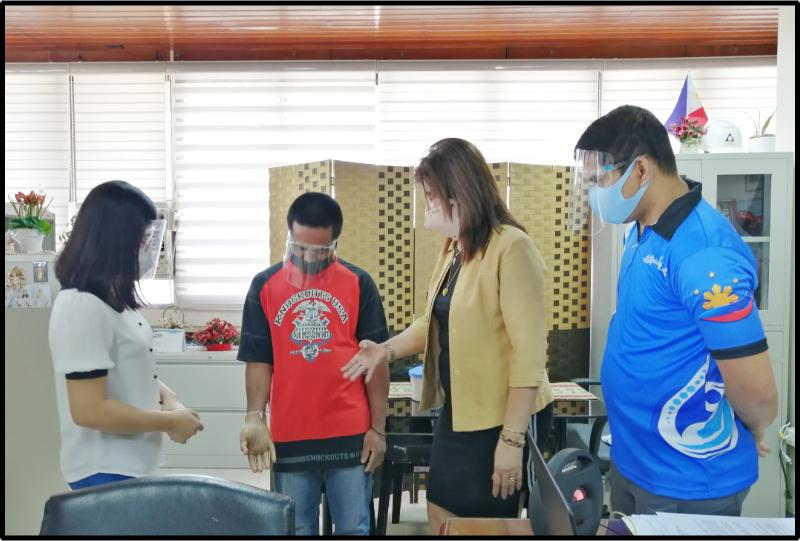 DOLE-10 Asst. Regional Director Estrella Pahalla and ECC-REU 10 Information Stella Obice check the cosmetic hand prosthesis granted by ECC to Jorie Etchon at DOLE Region 10 office in Cagayan de Oro City on February 05, 2021
The Employees' Compensation Commission (ECC) awarded hand prosthesis to two persons with work-related disabilities (PWRDs) at the ECC REU 10 in Cagayan de Oro City on February 5, 2021.
The ECC, together with Assistant Regional Director of the Department of Labor and Employment – Region 10, Estrella Pahalla, and two representatives from ECC's supplier of assistive devices, awarded hand prosthesis worth ₱220,000, to Edcel Ladores and Jorie Etchon.
Ladores, a plant operator of a multinational company in Misamis Oriental, had an accident in March 2017 when his left hand got caught in a crushing machine. The accident resulted to the amputation of his four fingers. Fortunately, he was able to work again but this time as a leadman. Ladores received EC sickness and disability benefit through the SSS, ECC's administering agency in the private sector. He was also assessed by the rehabilitation doctor of the Northern Mindanao Medical Center, ECC's program partner under the Katulong at Gabay sa Manggagawang may Kapansanan (KaGabay) Program. Upon assessment, he was recommended with a cosmetic hand prosthesis.
Etchon, on the other hand, had a work-related injury in July 2017 where his hand was caught by a conveyor. The accident caused the amputation of his right hand. He was able to receive sickness and disability benefits under the EC Program. He also attended the livelihood seminar conducted by the ECC and the Regional Tripartite Wages and Productivity Board – X in October 2019. In the same month, ECC awarded him a ₱20,000.00 worth of starter kit for his hog-raising business. And, after assessment by the rehabilitation doctor, he was recommended with a cosmetic prosthesis.
"Nagpasalamat jud ko sa ECC sa libre na prosthesis. Hinaot unta nga daghan pa ilang matabangan sama nako" (I would like to thank ECC for the free prosthesis. I hope you will able to help more PWRDs like me), said Ladores.
Physical Restoration is one of the benefits and services of ECC's KaGabay Program, a special economic assistance program for PWRDs. ECC provides free physical or occupational therapy services including assistive devices such as leg/arm prosthesis, crutches, and hearing aid to PWRDs.
S. Obice – 10