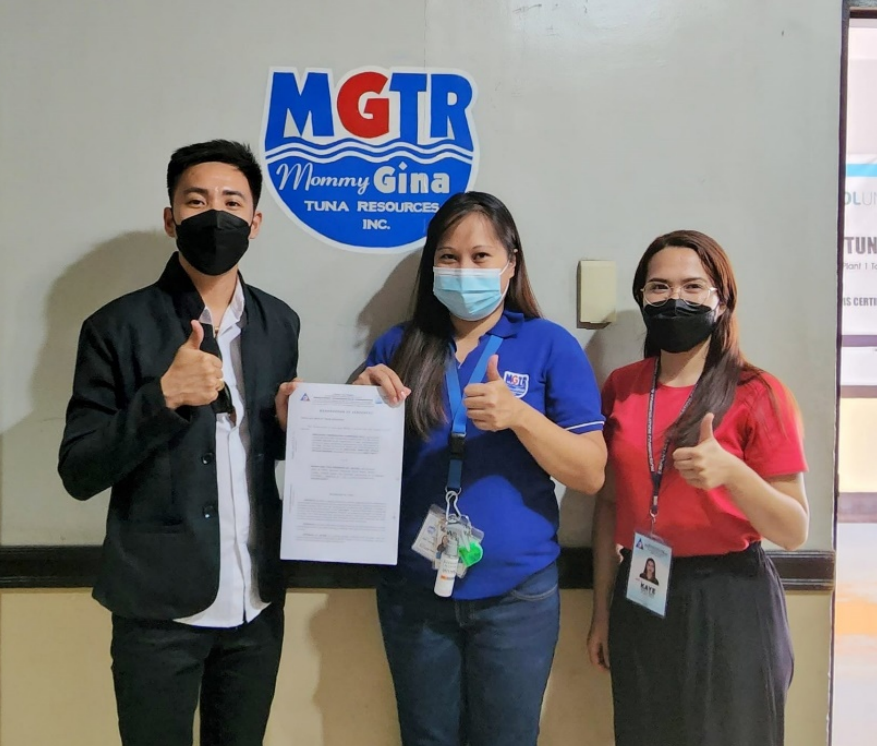 The Employees' Compensation Commission Regional Extension Unit 12 and the Mommy Gina Tuna Resources, Inc. show the Memorandum of Agreement for the Return-to-Work Program (RTWAP) at CMPHI Business Compound, Purok, Ngilay, Banisil, Tambler, General Santos City. IN PHOTO: (L-R) Administrative Officer Exequiel K. Salcedo III, Mommy Gina Tuna Resources, Inc. Human Resource Manager GiLanie T. Buenafe, and Information Officer Kaye L. Daga.
The Employees' Compensation Commission Regional Extension Unit 12 recently signed an agreement with Mommy Gina Tuna Resources Inc. (MGTRI) to help assist persons with work-related disabilities (PWRDs) in General Santos and other neighboring provinces.
The Memorandum of Agreement (MOA) was the first-ever partnership forged by ECC-REU 12 with a private company in the implementation of its RTWAP. The MGTRI is a large-scale fishing company that also manufactures tuna products in General Santos City. They are also a major supplier of tuna goods to Japan and the US.
In accordance with the partnership, MGTRI shall assist with the re-employment or immersion of the qualified ECC client and determine their possible job placement in the company. The ECC, on the other hand, shall identify prospective PWRDs in the company who are eligible for rehabilitation services, livelihood, and skills training.
"Through this Return-to-Work program of ECC, we continue to uphold the PWRDs' welfare by giving them opportunities for re-employment or new job placement," ECC OIC-Executive Director Jose Maria S. Batino said.
Director Batino also added that ECC will carry on fostering healthy relationship with different institutions in order to efficiently and effectively provide timely services to PWRDs.
The ECC's Return-to-Work Assistance Program is an interdisciplinary approach to rehabilitation, services, and support that goes beyond traditional medical treatment for the worker who suffered from work-related contingency. This comprises the provision of medical and surgical treatment, rehabilitation, job and workplace modification, job placement, and vocational retraining.
K. Daga – REU 12