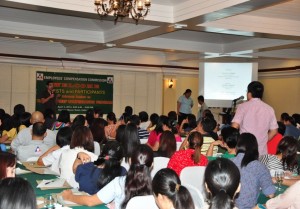 Iloilo City – The Employees' Compensation Commission in coordination with the Department of Labor and Employment- Region VI, conducted a one-day advocacy seminar on Employees' Compensation Program on April 3, 2014 at Sarabia Manor Hotel and Convention Center.
The free admission seminar was attended by 189 participants coming from both the private and public agencies including the uniformed personnel of the Philippine National Police, Bureau of Fire Protection and Bureau of Jail Management and Penology in Western Visayas.
ECC OIC-Deputy Executive Director Atty. Jonathan T. Villasoto formally opened the activity and Director Ponciano M. Ligutom of DOLE-Region VI welcomed all participants from various agencies.
Ma. Cecilia E. Maulion, Chief of Information and Public Assistance Division of ECC introduced and explained the compensation component while Dra. Sarah Antonia Concepcion, Medical Officer IV of the ECC Work Contingency Prevention and Rehabilitation Division, discussed about the prevention and rehabilitation components of the ECP.
Villasoto stated that the advocacy seminar is a big start for the newly opened ECC REU in Iloilo City.
"Thru this, employees will be aware about their rights and benefits and employers will be informed of their obligations under the ECP, in accordance with PD 626, as amended," Villasoto stressed.
"Intensifying public's awareness about the ECP and ECC should be massive and strategic to achieve a successful information campaign," he added.
A day prior to the advocacy, a press conference was conducted with notable print and broadcast members of the media attending the event setting a tone for the next day's advocacy seminar.
During the press conference, the ECC also officially launched its newly created Regional Extension Unit for Region 6 located in Iloilo City.
The ECC-REU 6 will be located at the DOLE Regional Office in Iloilo City and will be manned by Information Officer Stephene Barredo and Administrative Officer Lynmar Frances Laruscain.
The ECC Staff will be in-charge of ECP information dissemination activities, Quick Response and KAGABAY Programs throughout Western Visayas.