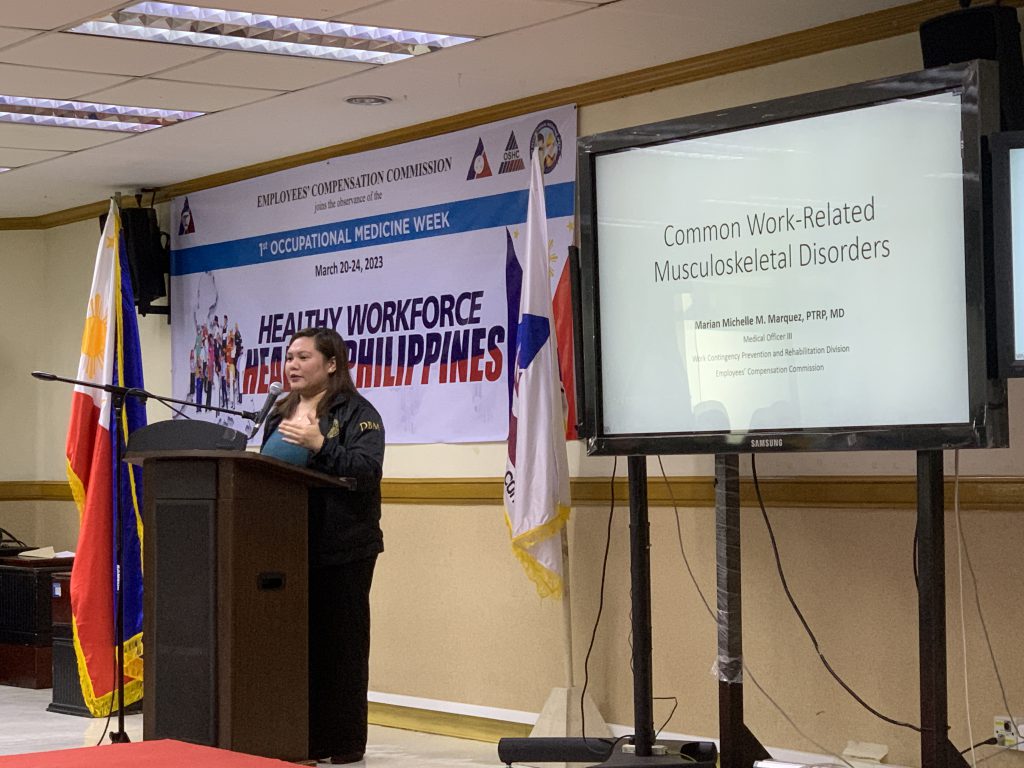 The Employees' Compensation Commission (ECC) has conducted a seminar on Work-Related Musculoskeletal Disorders (WRMSDs) at the ECC Main Office Multi-purpose Hall, Makati City on March 23, 2023.
The hybrid seminar was attended by 139 employees from ECC Central and Regional Offices, including on-the job trainees and utility service workers. It aimed to educate all personnel of ECC on the prevention and management of WRMSDs through interactive activities.
Dr. Marian Michelle M. Marquez, Medical Officer III of the ECC served as the resource speaker where participants learned about what are considered work-connected musculoskeletal disorders, the causes and risk factors of WRMSDs, as well as practical strategies for preventing and managing these conditions. An interactive workshops, on the other hand, provided attendees with hands-on experience in ergonomics, proper posture, and safe work practices.
OIC-Executive Director Jose Maria Batino said that, "We are thrilled with the success of our WRMSD seminar and grateful for the support of our personnel and expert speaker. Worthy to note, that musculoskeletal disorders are considered work-related diseases. Thus, it is compensable under the Employees' Compensation Program."
"The prevention and management of WRMSDs are critical to reduce the burden of these disorders on workers and employers. Prevention efforts should focus on identifying and addressing workplace hazards through ergonomics, which involves designing workspaces, tools, and equipment to fit the worker," added Director Batino.
To cap the event, Director Batino finally said that, "Training and education for workers and supervisors on ergonomic principles, proper posture, and safe work practices can also help to prevent WRMSDs. By working together to address these issues, we can create safer and healthier workplaces for everyone."
S. Barredo – REU 6