"Another feather in ECC's hat proving that the State Insurance Fund is, indeed, in good hands".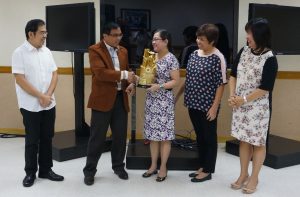 This is how Employees' Compensation Commission Executive Director Stella Zipagan-Banawis described the recent accolade received by the Commission from the Association of Government Accountants of the Philippines (AGAP) as one of the Oustanding Accounting Offices for 2015.
Director Banawis received the award from AGAP in an awarding ceremony held as part of AGAP's Annual National Convention on October 19, 2016 in Bohol Tropics Hotel, Tagbilaran City, Bohol.
"We are pleased that the work that we have been doing for the past few years have been recognized," she added.
For the 2015, AGAP, together with the Commission of Audit (COA), recognized 19 government accounting offices for their dedication to their sworn duties and responsibilities in the name of service to the Filipino people.
The awardees were chosen based on timeliness, reliability, accuracy, completeness, and unqualified audit opinion of their financial reports. The office should also be nominated by their resident COA auditors.
"We are honored by this award. The credit goes to our Finance Division, who have been working so hard to ensure that all matters pertaining to ECC's finances are well accounted," Banawis said.
"This award is a testament to the Filipino workers that the ECC cares for them in all aspects of our work. This is just one of the many things that we do in order to safeguard their well-being. This is just part of our continuing commitment to keep on improving our services," she ended.