Tuguegarao City, Cagayan – "Lumalago napo yung negosyo namin, maraming salamat po dun sa binigay niyong sari-sari store package sa amin. Napaikot kona po yung puhunan at kumikita narin po siya nang hanggang isang libo sa isang araw.  Maraming Salamat po sa tulong niyo po. Ngayon natutustusan napo namin ang gamot ng aking asawa at ang pag-aaral ng aking mga anak", says Mrs. Lorna Raquino as she expressed her gratitude to ECC for the asistance provided to his husband, Mr. Larny Raquino.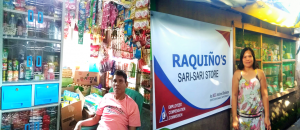 Raquino, a former lineman from Cagayan II Electric Cooperative (CAGELCO II) met an accident last January 11, 2017 when an electric post being unloaded from a truck accidentally fell on him and caused his spinal cord injury.
From then on, he was not able to get back to work and is solely dependent on his pension amounting to P20,000.00 per month from ECC and SSS for his Permanent Total Disability.
Aside from the pension, he received P81,000.00 from ECC as a reimbursement for his medical expenses during his confinement.
On December 21, 2018 a sari-sari store package amounting to P 20,000.00 was awarded to the couple by the ECC to help augment their expenses for continous medications and as additional income for the family.
After at least one year, Raquino may be considered as eligible to receive additional Php 10,000.00 as incentive or complementary assistance for sustaining his chosen business
ECC Executive Director Stella Banawis, emphasized that "ECC exists to serve as a  silver lining to persons with work-related contingencies by providing them with benefits and services so that they can be economically independent and an active member of our society once again"
The ECC is mandated to provide meaningful and appropriate compensation to workers and their dependents in the event of work-connected contingencies such as sickness injury, disability or death.
XXX
Remi-2