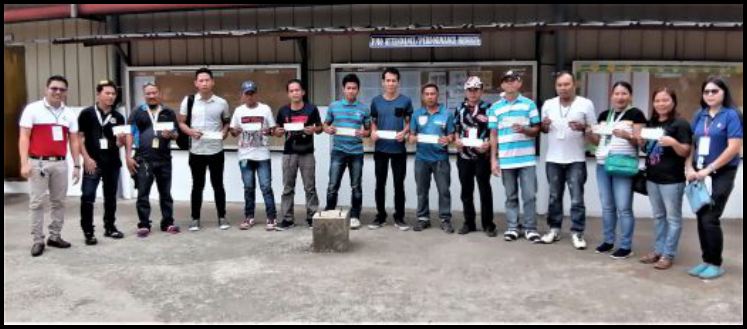 CASH ASSISTANCE. Recipients show the checks representing the ₱10,000 Cash Assistance from ECC.
Davao del Sur – "Working with incomplete limbs is obviously arduous but this incompleteness finds its fill through the aid of Employees' Compensation Commission (ECC), "said Kristian Malud, an assistant blancher operator, during the ceremonial distribution of Php 10,000 cash assistance at Franklin Baker, Inc., Sta. Cruz, Davao
Malud is one of the eighteen recipients of the ECC Cash Assistance Program for workers who contracted sickness or injury in the course of employment. All are workers of Franklin Baker, Inc.
The recipients received the EC Cash Assistance in addition to the EC sickness or EC disability benefits which they already have availed. In view of the holistic approach of the EC Program to person with work-related-disabilities, they will be granted physical or occupational therapy and livelihood grant through the ECC Katulong at Gabay sa Manggagawa (KaGabay) Program.
Stella Zipagan-Banawis, ECC Executive Director, acknowledged the contribution of all workers to the national economy and emphasized that whatever contingencies transpired to them in carrying out their duties must be accorded full protection under the Employees' Compensation Program. "The Commission is committed to providing every worker not only the benefits due them after the contingency but most especially giving highest premium to safety to avoid the occurrence of such contingency," she added.
The grant of Cash Assistance was adopted by the ECC in 2018 purposely to enable the injured workers address the economic needs subsequent to becoming victims of contingencies in the course of employment.
A. Bantan – 11