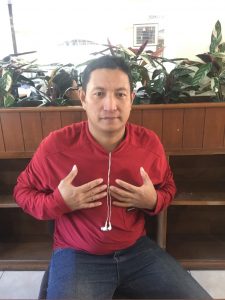 Roderick Tagulao, a miner and an experienced explosive handler from Pangasinan received Employees' Compensation Program (ECP) benefits after being severely injured due to a work-related incident in 2017.
Tagulao is a mechanic of the Philex Mining Corporation in Tuba, Benguet Heliport area. His other duties include operation and repair of mining equipment used for underground activities and preparing explosives used in extracting mineral ores.
On October 20, 2017, Tagulao was tasked to set up the explosives at the blast area. After his inventory and safety checks, he proceeded to prepare the blasting caps. The blasting caps are tiny explosives that trigger the main explosive, usually dynamite, to start the chain of blasts. When he was handling one blasting cap, it malfunctioned and prematurely exploded before he could pull away his left hand. The resulting blast instantly severed the 4th and 5th distal ends of his left hand. He was rushed to the company hospital where he was given emergency first aid before being transported to a hospital in Baguio City. There he was given emergency surgery to treat his injuries. Tagulao stayed in the hospital for about four days before being discharged when his condition stabilized and the risk of infection was minimal.
After recovering from the incident, Tagulao filed for his SSS and ECP benefit claims which were duly approved due to the nature of the accident which was work-related. Despite his amputated fingers, he went back to his company and started to resume his duties.
In addition to the cash benefit claim, Tagulao also received a small piggery business after undergoing entrepreneurial and skills training under the Katulong at Gabay sa Manggagawang may Kapansanan (KaGabay) Program of the Employees' Compensation Commission (ECC).
Further, a prosthetics company through the ECC scheduled a fitting session to enhance the look of his injured left hand on January 18, 2019. A set of temporary fingers or digits was provided to him while the final prosthetics are being manufactured to match the size, skin tone and the appearance of his right hand. Each of the two digits cost P55,000.00, which will be shouldered fully by the ECC.
Tagulao expressed his sincerest gratitude to the ECC for assisting and providing him help when he needed it most.
The Employees' Compensation Commission is a government corporation attached to the Department of Labor and Employment for policy coordination and guidance. It was created by virtue of Presidential Decree No. 626, as amended and as embodied in Title II of Book IV of the Labor Code of the Philippines. The ECC is mandated to provide meaningful and appropriate compensation to workers and their dependents in the event of work-related contingencies such as sickness, injury, disability or death.
End./Dennis Garret Lee