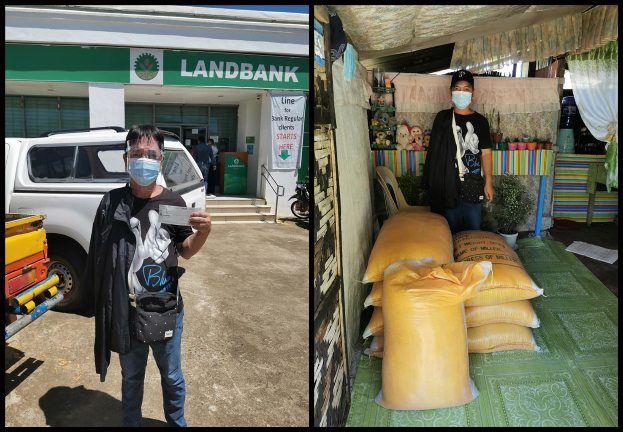 Norbert Tan shows his livelihood grant, Rice Retailing Business, worth ₱20, 000.00 under the ECC's KaGabay Program.
"Nagpasalamat kog dako sa ECC sa mga benepisyo na akong nadawat labaw na sa inyong livelihood program. Dako kaayo ni na tabang labi na nga PWRD na ko ug nahuman na pud akong disability pension" (I would like to thank ECC for the benefits I have received especially their livelihood program. This would help me a lot since I'm already a PWRD and my disability pension already ended) said Norbert Tan, one of the beneficiaries of the ECC KaGabay (Katulong at Gabay sa Manggagawang may Kapansanan) Program who received a livelihood assistance from the Employees' Compensation Commission.
Tan, from Maramag, Bukidnon, was a former leadman of an engineering company. In July 2016, his right hand was caught by a machine which resulted to the amputation of his right mid-arm. Due to his physical condition, Tan was not able to go back to his previous job.
In August 2019, his friend mentioned about ECC and its program and services. Without hesitation, Tan travelled to Cagayan de Oro City to visit the ECC Office. Upon interview and checking of records, Tan already received EC Sickness benefits amounting to P 6,000. And he was receiving EC disability benefits since April 2017. Thus, he was advised to avail of the livelihood assistance under the ECC's KaGabay Program.
Under the KaGabay Program, the current physical condition of Tan was assessed by the ECC's partner rehabilitation hospital, Northern Mindanao Medical Center. He also attended the social preparation seminar conducted by ECC Northern Mindanao, together with its partner agency, the Regional Tripartite Wages and Productivity Board – X (RTWPB-X) which discussed the topics such as Financial Literacy, Simple Bookkeeping and ISTIV-Bayanihan.
With all the requirements complied and after rigorous evaluation by the ECC, Tan was awarded with a Rice Retailing Business worth ₱20, 000.00 on September 30, 2020.
ECC Executive Director Stella Zipagan-Banawis said that, "During this pandemic, if our PWRDs will be able to sustain this business venture for a period of at least three months, they will receive a complementary kit amounting to ₱10, 000.00."
The KaGabay Program is a special economic assistance program for persons with work-related disabilities (PWRD) who lost employment by reason of work-related sickness or injury. It aims to facilitate the integration of PWRDs into the economic mainstream through physical restoration, training for re-employment, or entrepreneurship.
S. Obice – 10