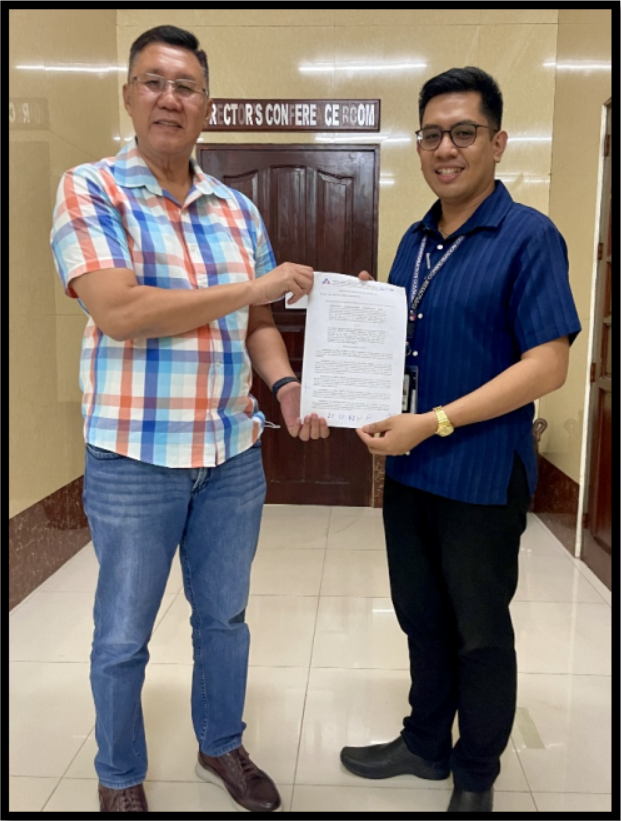 ECC-REU 6 Administrative Officer II Mark Lester Flores (right) and WVSU Medical Center Chief Dr. Dave Endel R. Gelito III (left) show the 2-year Memorandum of Agreement (MOA)  for the provision of rehabilitation services for PWRDs on February 10, 2023.
IloIlo City – The Employees' Compensation Commission Regional Extension Unit VI (EC-REU 6) has recently signed a partnership agreement with the West Visayas State University (WVSU) Medical Center in Jaro, Iloilo City for the provision of various rehabilitation services for persons with work-related disability (PWRDs) under the ECC's Katulong at Gabay sa Manggagawang may Kapansanan (KaGaBay) Program.
The KaGabay Program is a special economic assistance program for PWRDs who lost employment by reason of work-related sickness or injury. This program includes physical restoration which refers to the provision of physical or occupational therapy services to PWRDs including medical appliances. Skills Training for re-employment and Entrepreneurial Training are also included in this program.
"Due to the restriction brought about by Covid19 Pandemic, the partnership between ECC and WVSU-Medical Center was put on hold in 2021 and 2022. Thus, we consider this as a milestone for our Office in Iloilo City as this will surely contribute to the reintegration to the economic mainstream of our PWRDs this 2023. We hope that this will be a welcome development for all our beneficiaries in IloIlo," said OIC-Executive Director Jose Maria Batino.
Other than the rehabilitation services, ECC also provides loss-of-income benefits, medical services, appliances, and supplies; carers' allowance; and, death and funeral benefits. The grant of rehabilitation services presupposes that the PWRD had already filed and claimed his or her EC benefit from our administering agencies, the Social Security System (SSS) for the private sector employees and the Government Service Insurance System (GSIS), for the public sector.
As of February 2023, the ECC-Iloilo City served 134 PWRDs under its ECC-KaGabay Program.
The ECC-REU6 is located on the 4th Floor, 7J Corporate Center, Jalandoni-Ledesma Sts., Iloilo City.
S. Barredo – REU6