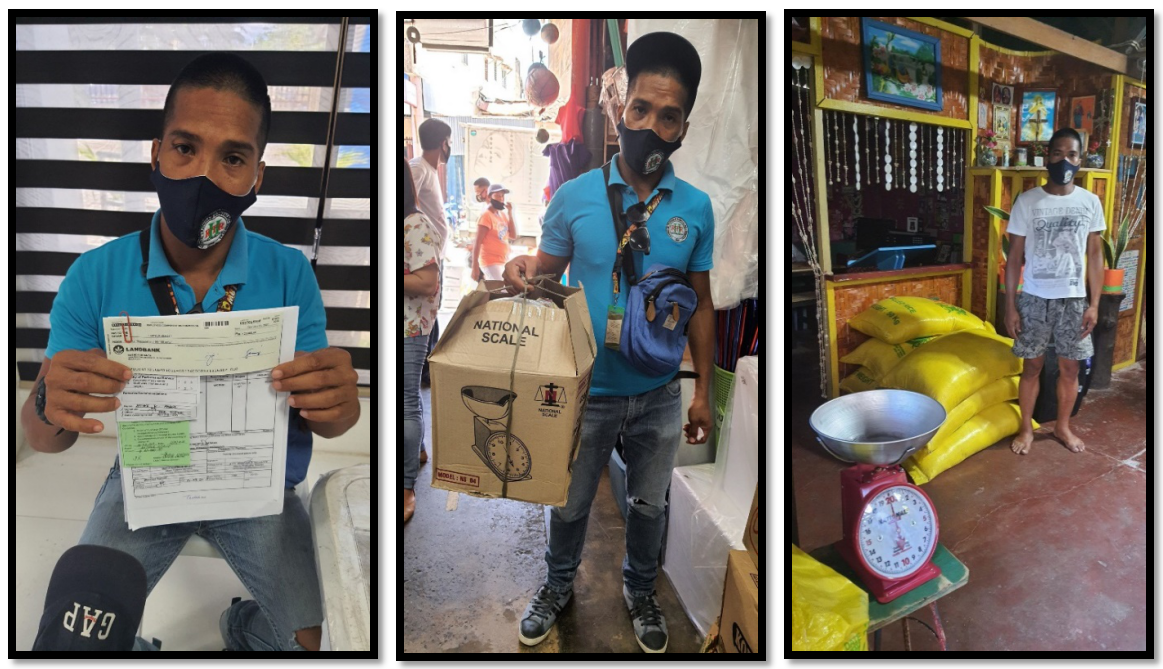 ECC Kabuhayan Package. Arthur Aballe with his ECC livelihood check used to purchase sacks of rice and weighing scale for his bigasan business.
While maintaining heightened health protocols and strict social distancing, the Employees' Compensation Commission (ECC) has resumed its operations in Eastern Visayas by rolling out livelihood assistance to qualified beneficiaries under the Employees' Compensation Program (ECP).
Arthur Aballe was all smiles behind his face mask as he received the livelihood assistance check amounting to twenty thousand pesos from ECC REU8 Information Office Michelle Basal in June 2020. The said amount was used to purchase livelihood materials and equipment for the rice retailing business that Aballe applied under the Katulong at Gabay sa Manggagawang may Kapansanan (KaGabay Program) of the ECC.
Aballe, who is a healthcare facility worker from Tacloban City, sustained injuries when he stepped on a rusty equipment in his workplace. Consequently, he incurred absences from work which prompted him to apply for a claim under the ECP through the Social Security System (SSS).
When his EC claim was approved, Aballe was referred to the ECC Regional Extension Unit 8 to avail of benefits under the KaGabay Program.
The KaGabay Program aims to assist workers with work-related disabilities who have approved ECP claims either through the SSS for private sector workers and the Government Service Insurance System (GSIS) for public sector workers.
Through this program, qualified beneficiaries may avail of rehabilitation services, skills trainings for entrepreneurship with additional livelihood assistance amounting to Thirty thousand pesos (₱30, 000.00) which would be provided in tranche subject to qualifying criteria.
"ECC provides loss of income benefits, medical benefits, death benefits and all other benefits in the event of work-connected sickness, injury or death based on Presidential Decree 626. The ECC, however, deems it necessary to institute other relevant programs to address the concerns of persons with work-related disabilities," ECC Executive Director Stella Zipagan-Banawis said.
"Through the years, the program has continued to evolve because the ECC believes that we have to be comprehensive and inclusive with all our programs. The creation of the KaGabay Program has allowed us to explore several mechanisms within which the Commission can assist persons with work-related disabilities on their way back to recovery," Director Banawis explained.
"From facilitation of free rehabilitation services to providing skills and entrepreneurial training supplemented with livelihood assistance amounting to Thirty thousand pesos, (₱30, 000.00) we ensure that our PWRDs continue to be productive members of the economic workforce," Director Banawis added.
"I am thankful to the ECC for facilitating my claim. Suffering from work-related injuries took a toll on me as I had to stop working for several days. The twenty thousand livelihood assistance will go a long way in augmenting the needs of my family," Aballe shared during interview.
Mitch – 8