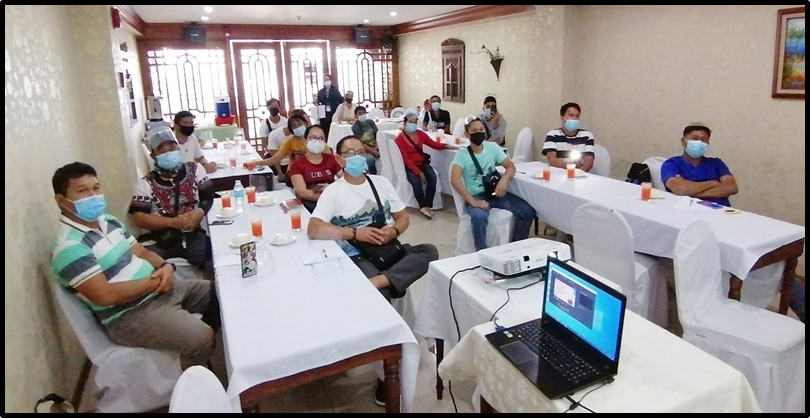 With the challenges brought by the pandemic, the Employees' Compensation Commission – Regional Extension Unit No. 10 successfully managed in conducting a livelihood seminar to 12 Persons with Work-related Disabilities (PWRDs) in Cagayan de Oro City in March, 2021.
The 12 PWRDs, who are from Cagayan de Oro City and Misamis Oriental, are beneficiaries of ECC's Katulong at Gabay sa Manggagawang Kapansanan (KaGabay) Program. It is a special economic assistance program that provides PWRDs equal access to livelihood opportunities and assist them in setting-up their own self-managed micro-enterprises or home-based business.
For the first time during this pandemic, ECC REU10 conducted a hybrid livelihood seminar, a combination of face-to-face and virtual discussion. The activity was held at Pearlmont Hotel in Cagayan de Oro City in coordination with the Regional Tripartite Wages and Productivity Board (RTWPB) – Region 10.
Exequiel Salcedo III of ECC Regional Extension Unit No. 12, who was formerly assigned in Cagayan de Oro City, handled the Social Preparation Training virtually through the Zoom platform. Meanwhile, Stella Mae Obice of ECC REU10, oriented the participants in Business Plan Making. Evelyn Rivera, Labor Employment Officer III of RTWPB-X, discussed the following topics with workshops: ISTIV-Bayanihan, Financial Literacy and Simple Bookkeeping. With these, PWRDs are equipped in starting their own self-managed business.
The PWRDs are expected to submit their own business proposal and will soon be given each a ₱20, 000.00 worth of starter kit. If the PWRDs sustained their livelihood projects in the last three months since they started, the ECC will grant them a complementary kit of ₱10,000.00.
ECC Executive Director Stella Zipagan-Banawis said, "The ECC reduced the waiting time for the grant of complementary kit from a period of at least one year to three months as an immediate response to alleviate the financial concerns of the PWRDs during this pandemic."
Tungod sa ECC Livelihood Program, "nabag-o akong kinabuhi ug sa akong pamilya. Walay imposible kung naay determinasyon, positibo ang panghuna-huna ug naay salig sa Ginoo" (Nang dahil sa ECC Livelihood Program, nabago ang buhay ko at ng aking pamilya. Wala talagang imposible kung may determinasyon, positibong pag-iisip at may panalig sa Diyos)," said Jebson Igloria, one of the successful ECC beneficiary in Northern Mindanao.
S.Obice – REU10