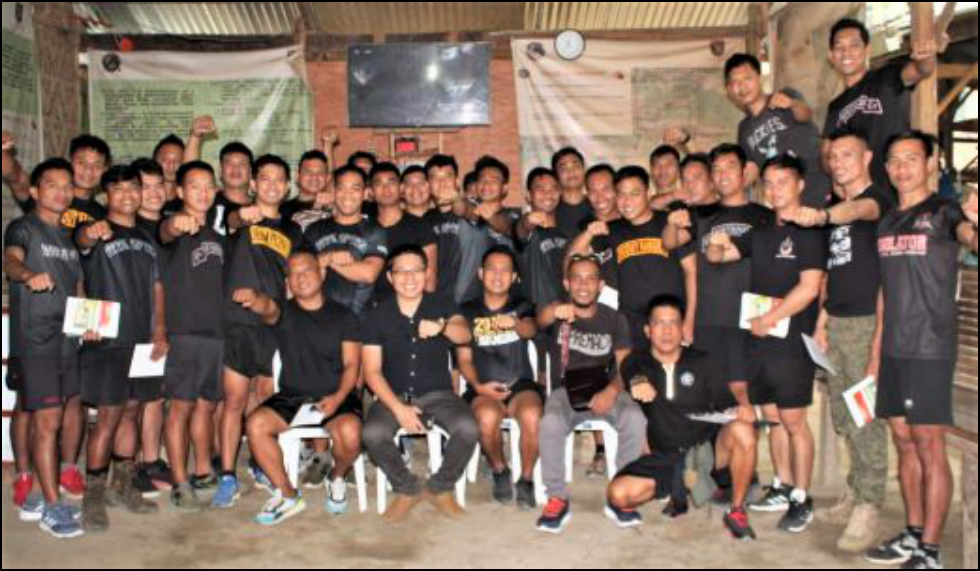 Tagum City – The Employees' Compensation Commission (ECC) provided a comprehensive awareness on the EC Program at the outskirts of Davao del Norte to sixty members of the 4th Scout Ranger Company at Brgy. San Agustin in Tagum City.
The effort was consistent with the long-standing directive of President Rodrigo Roa Duterte to ensure maximum social protection for the PNP and AFP members as espoused in the Comprehensive Social Benefits Programs (CSBP). President Duterte reiterated on various occasions that due regard should be given for the service of soldiers and policemen through grant of benefits due them in times of contingencies.
"The ECC has taken cognizance of the valuable service of our men and women in uniform. Thus, it is just appropriate that the awareness of their entitlements under the EC Program should know no bounds," ECC Executive Director Stella Zipagan-Banawis said. She added that the Commission remains resolute in its pursuit in informing every uniformed personnel of their benefits under the EC Program.
The need to conduct the said information drive was brought about by the fact that the 4th Scout Ranger Company was among the first military units deployed during the invasion of Marawi by the Maute and Abu Sayyaf group last May, 2017. Accordingly, the war lasted for five months and claimed 168 killed in action and 1400 wounded in action among government forces.
During the lecture, the attendees were apprised on the different EC benefits such as ₱30,000 funeral benefits, lifetime pension for the surviving spouse, ₱15,000 or ₱10,000 cash assistance for the killed and wounded in action respectively, provision of assistive devices for the loss of limbs, disability benefits and livelihood assistance.
"In behalf of the entire 4th Scout Ranger Company, I welcome the commendable endeavor of ECC in reaching out to us in spite of the concomitant danger in coming to our camp," said Capt. Reymal M. Lopez, INF, Commanding Officer of the 4th Scout Ranger Company, in his closing remarks. He added that 17 members of the unit, including him, have availed of the cash assistance under the EC Program after they were wounded in action during the Marawi siege.
In August 2020, the ECC and the AFP signed a Memorandum of Agreement which aimed to increase the awareness of the uniformed personnel regarding their coverage and benefits under the Employees' Compensation Program.
Albert – 11