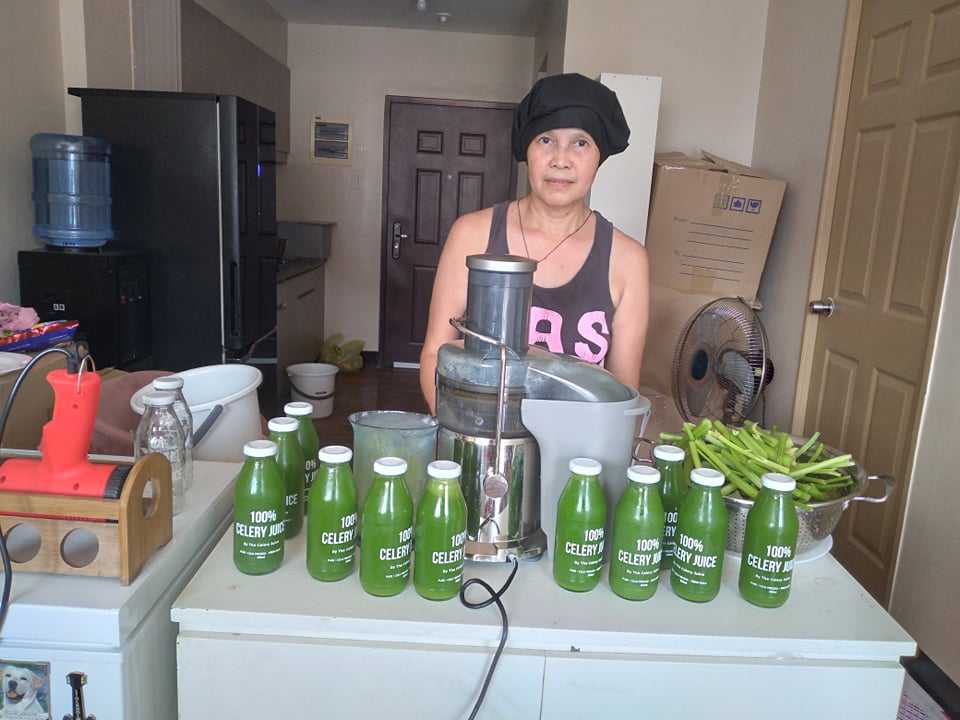 Cynthia Gonzales, a former OFW working in a cruise ship, with her bottled celery juice for her online juice business, a livelihood assistance granted by ECC under the KaGabay Program. 
On October 22, 2021, the Employees' Compensation Commission (ECC), under its Katulong at Gabay sa Manggagawang may Kapansanan (KaGabay) Program, granted a ₱20,000.00 livelihood assistance to Cynthia Gonzales, a former Overseas Filipino Worker (OFW) who figured in an accident while at work.
On April 14, 2018, Gonzales slipped on a beach resort while on duty as a bar server in a cruise ship. She was diagnosed with a meniscal tear in her left knee and underwent surgery. Consequently, she became physically incapable of returning to work and was forced to retire at the age of 53.
Gonzales was awarded EC sickness and disability claim by the SSS and EC cash assistance worth ₱10,000 at the ECC. Said assistance is being granted by ECC to workers who became sick, or injured, or to their beneficiaries, in case of work-related death.
In February 2020, Gonzales was provided with free physical therapy sessions with transportation allowance under the ECC-KaGabay Program,
In August 2021, she engaged in making celery and buko pandan juice and marketing them online. With the livelihood assistance granted to her in October by the ECC, she procured a juicer and a freezer to augment her home-based business.
While sea-based OFWs are already covered by the EC Program, ECC is now in the process of expanding the coverage of the program to include all land-based OFWs who are registered members of the Social Security System (SSS).
J. Romasanta – REU4A