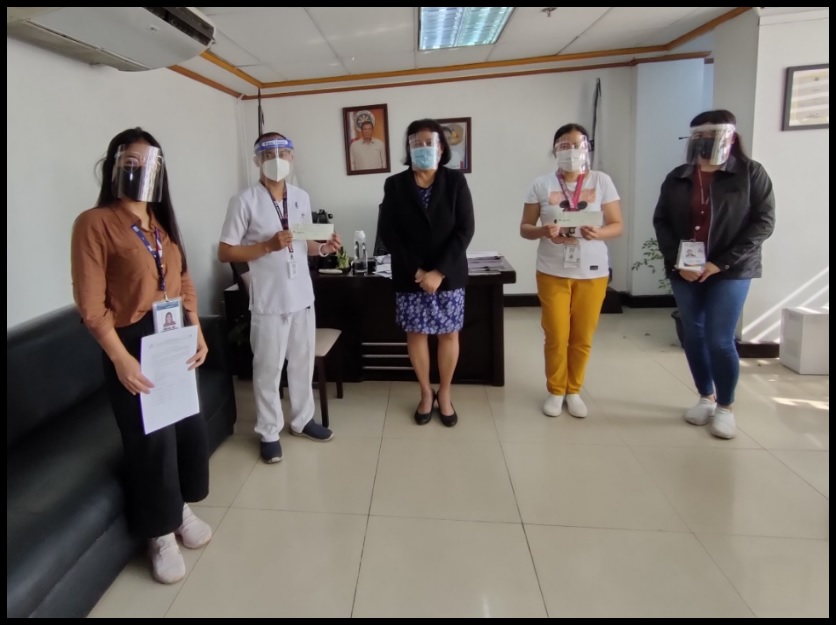 The Employees' Compensation Commission through its Regional Extension Unit in Davao Region handed a total of P1.35 million cash assistance to 135 COVID-19 survivors on June 23, 2021 at the DOLE Regional Office in Davao.
The recipients were all frontline workers in the public sector who contracted COVID-19 in the performance of their duties. Aside from the cash assistance, the survivors also received EC sickness benefits which were processed and released by the GSIS, ECC's implementing agency for the government sector.
DOLE-XI Regional Director Ofelia Domingo and ECC Administrative Officer Franscheline Loayan spearheaded the distribution of the checks to the claimants.
In her remarks, Director Domingo said that the EC cash assistance reinforced the DOLE's commitment to advance the welfare of all workers especially during challenging times.
"The EC Program has been so relevant during times like this where lives and safety of workers are put to imminent risk due to the dreaded COVID-19 virus," said Domingo.
According to ECC officer Loayon, there will be another batch of cash assistance distribution in the region in the coming months,
"We are expecting a series of distributions as there are a lot of workers already in the region who contracted COVID-19 because of their work and/or working conditions," said Loayan.
"We are thankful for the cash assistance ECC granted to us COVID-19 survivors. The benefit greatly helped me regain my life's momentum after being stricken with the virus," said Erle Norte, a public school teacher of Bernardo Carpio National High School, after receiving the cash assistance check.
The granting of cash assistance for victims of work-related contingencies has been adopted by the Commission in pursuit to its endeavor to bring forth substantial contribution in the physical and economic recovery of the worker.
A. Bantan – REU11