"Only a life lived for others is worth living" – Albert Einstein
In honoring the service and sacrifice of Police Senior Master Sergeant Alice Balido and the late Police Senior Master Sergeant Jason Magno for the grenade incident at Initao, Misamis Oriental, a cash assistance was granted by the Employees' Compensation Commission to Balito and the beneficiary of Magno in Cagayan de Oro City.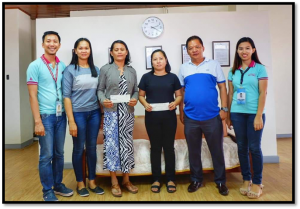 Balido received P10,000 cash assistance while Vivian Magno, wife of the late Magno, received P15,000. Both police officers were the first responders to the grenade incident at the Municipality of Initao in Misamis Oriental last November 28, 2019. The Initao Police Station received a call about a suspect threatening DENR employees with a grenade. The employees were able to escape from their office and ran towards Initao Community College, which is a few meters away. When the police officers arrived at the scene, the suspect was still holding the grenade and runs amok of the said school. According to reports, a defense tactics instructor of the school found a chance to grab and hold the suspect's hand in order to bring him out of balance while Magno run towards them. But the grenade was already thrown and landed on the cemented ground. Magno hurriedly covered the grenade with his body to prevent more damage and injury. Unfortunately, Magno was seriously injured which led to his death. Balido, on the other hand, was seriously wounded.
The extension unit of ECC in Cagayan de Oro coordinated with the PNP Regional Office – 10 regarding the ECC QRP Cash Assistance. Police Corporal Edne Gaid assisted and processed the documents in behalf of Balido and Magno.
The event has paved the way to make the EC Program more known to the PNP and other members of the uniformed personnel. The Employees' Compensation Commission Program provides benefits to workers in the private sector and in the public sector, including uniformed personnel of the Armed Forces of the Philippines, Philippine National Police, Bureau of Fire Protection, and the Bureau of Jail Management and Penology.
XXX
Stella – 10