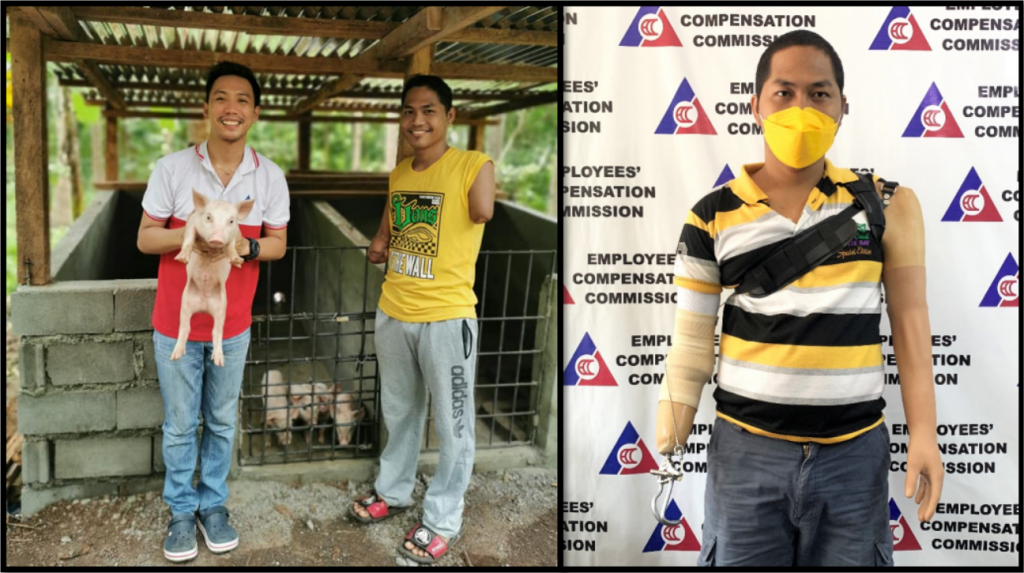 (Left picture) Jackyven Patayon is all smiles, together with ECC Administrative Officer Exequiel Salcedo, during the granting of ECC livelihood starter kit for his hog raising business. (Right picture) Patayon with his prosthetic limbs granted by ECC on January 27, 2022.
Jackyven Patayon, a truck driver in Misamis Oriental, had a work-related accident in September 2017. The unfortunate incident occurred when Patayon was on his way to deliver steel bars to their customers. The bars were caught by an electric wire. In his attempt to untangle the wire, he was electrocuted by a live power line. He survived the electrocution, but the doctors decided to amputate both of his arms.
Patayon lost his job due to his condition. Devastated by the situation, he decided to seek assistance from the Department of Labor and Employment (DOLE) Regional Office No. 10, where he was referred to the ECC office in Cagayan de Oro City.
With ECC's help, Patayon received EC sickness and disability benefits at the Social Security System (SSS).
Under the ECC's Katulong at Gabay sa Manggagawang may Kapansanan (Kagabay) Program, Patayon was granted free consultation with a rehabilitation doctor, free twenty (20) physical therapy sessions at Northern Mindanao Medical Center, and transportation and meal allowance amounting to ₱10,500.00.
Since Patayon is already a person with work-related disability (PWRD), he is qualified to avail the other benefits provided under the ECC KaGabay Program. Thus, he joined the livelihood seminar conducted by ECC CDO, in partnership with the Regional Tripartite Wages and Productivity Board – 10. In July 2019, ECC awarded him with a ₱20,000 worth of starter kit for his hog raising business. This serves as his source of living to support his family.
ECC also granted Patayon with above elbow cosmetic hand for his left arm and an above elbow with a mechanical hook for his right arm worth ₱300,000.00 on January 27, 2022 at the ECC office in Cagayan de Oro City.
The ECC's KaGabay Program refers qualified PWRDs to accredited hospital or clinics for appropriate rehabilitation services which includes physical restoration, provision of physical or occupational therapy, prosthesis, and assistive devices to achieve functional independence. ECC also provides livelihood or vocational training to further help PWRDs become productive members of society.
S. Obice – REU10