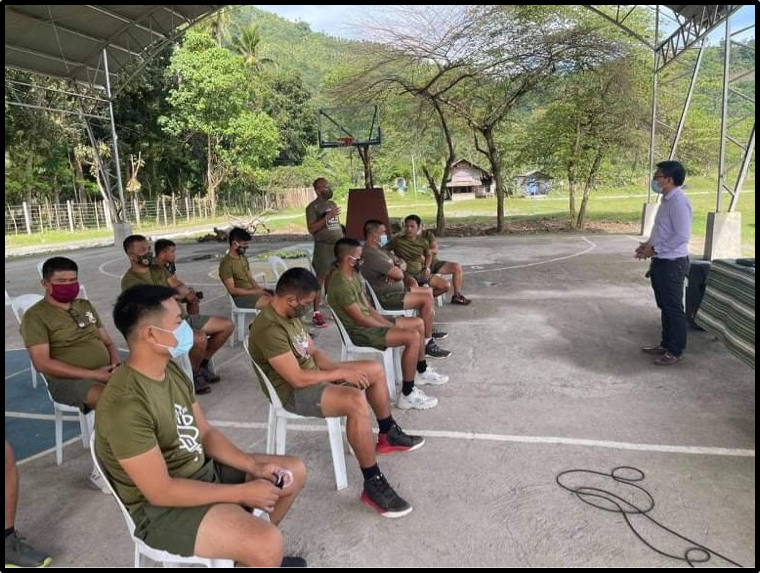 Uniformed personnel of the 73rd Infantry Battalion listens intently as one their officers raised a question to ECC Information Officer Albert Bantan at the open court in Malita, Davao Oriental on 17 February 2021.
The Employees' Compensation Commission conducted an information drive to the 39th Infantry Battalion at Matanao, Davao del Sur and 73rd Infantry Battalion at Malita, Davao Occidental on 08 February, 2021 and 17 February 2021, respectively.
A total of 124 members of the two battalions attended the event some of whom had become victims of work-connected contingencies but failed to claim their benefits under the Employees' Compensation Program mainly because of unawareness of the program.
Lieutenant Coronel Ronaldo G. Valdez INF (GSC), 73IB Commander, echoed the significance of the information drive to the men and women in the AFP. "This reaffirms the administration's policy to support the ECP which advance the welfare of all uniformed personnel. It consequently boosts our dedication to duty," he added.
The intensified information drive on the EC Program is pursuant to the Memorandum of Agreement concluded by the ECC and the Armed Forces of the Philippines on 17 August, 2020 at Camp General Emilio Aguinaldo, Quezon City.
"The Memorandum of Agreement indeed helped pave the way to carry out the mandate of ECC towards the men and women in the AFP," ECC Executive Director Stella Zipagan-Banawis remarked. She added that a number of AFP members were able to claim their benefits over the contingencies they encountered in the past because of our heightened information drive throughout the country.
ECC recognized that the opportunity to improve and institutionalize the EC Program is best achieved through effective dissemination of information on the entitlement and coverage of the program. This objective is anchored from the current administration's thrust to enhance social protection so that every Filipino can enjoy better and dignified quality of life.
A. Bantan – 11